Meet your maker!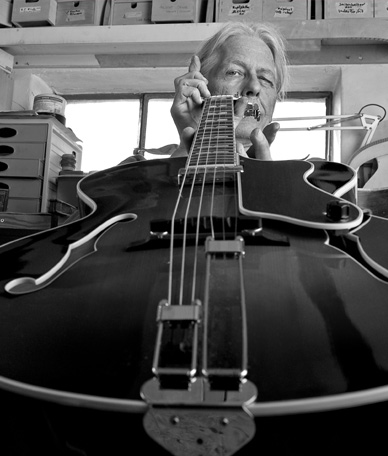 Meet your maker!
Meet your maker!
Shortly before my sixth birthday I wanted a guitar as a birthday present. What I got was big, heavy, red and was called: "accordeon"!
After seven years playing pseudo tangos and german oompapa-music I discovered the recordings of Woody Guthrie, Robert Johnson, Blind Blake, Doc Watson, DickMcDonagh, Sol Hoopii,Django Reinhard and various others. I learned to play the 5-string banjo, mandolin and finally the steel string guitar. During the following years I started to buy original prewar instruments in order to get the authentic sound.
I could only afford so called "handymen specials" or as instruments,which I tried to make playable with very mixed results in the beginning. Besides playing in all sorts of acoustic bands or as a solo performer I started to get really interested instrument making and repair. Soon I also worked for fellow musicians and the word travelled around.
Since that time thousands of so called vintage instruments passed by workshop. I am indebted to a lot of collectors who gave me the chance to restore but also take measures of high end instruments made by John D'Angelico, Jimmy D'Aquisto, CF Martin, Bacon & Day, SS Stewart etc..
I learned so much about construction, building techniques but also flaws that it was not a big step building and designing new instruments from scratch. Being an active musician myself helped a lot to get a realistic approach towards sound, plability and handling of instruments. Feedback from younger customers and fellow musicians produce new ideas and variations, my learning process keeps going on.